This is http://icarc.org hosted at n952.ooguy.com



---
ICARC Participation in 2022 Field Day
Here's our planning page for 2022 field day.



Hickory Hill Location permit acquired
Logging Software
Pictures

---

Field Day Operating sheet

See www.n3fjp.com for more details.
31270


---
Field Day Rules
Field Day is always the fourth full weekend of June, beginning at 1800 UTC (1:00 PM CDT) Saturday and ending at 2100 UTC (4:00 PM CDT) Sunday. Field Day 2022 will be held June 26-27, 2022. The object is to work as many stations as possible on all amateur bands (excluding the 60, 30, 17, and 12-meter bands) and in so doing to learn to operate in abnormal situations with less than optimal conditions. A premium is placed on developing skills to meet the challenges of emergency preparedness as well as to acquaint the general public with the capabilities of Amateur Radio.
Stations may work 24 consecutive hours. Set-up may not begin earlier than 1800 UTC (1:00 PM CDT) on Friday.
Exchange: Stations will exchange their Field Day operating Class and ARRL section. Example: a three-transmitter class A station in Iowa would send "3A IA" on CW or "3 Alpha Iowa" on Phone. DX stations send operating class and the term DX (i.e. 2A DX). A station may be worked only once per band. Phone, CW and Digital modes on a single band are counted as separate bands.
Scores are based on the total number of QSO points times the power multiplier plus bonus points. Phone contacts count one point each and CW and digital contacts count two points. If all contacts are made using an output power of 150 watts or less, the power multiplier is two.

Bonus points:
100 points per transmitter if all transmitting equipment operates on emergency power.
100 points for attempting to obtain publicity from the local media.
100 points for locating the Field Day operation in a public place (shopping center, park, school campus, etc).
100 points for a Public Information Table at the Field Day site.
100 points for origination of a formal Field Day message to the ARRL Section Manager or Section Emergency Coordinator.
10 points for each formal NTS style originated, relayed or received and delivered during the Field Day period, up to a maximum of 100 points (ten messages).
100 points for completing at least one QSO via satellite.
100 points for making a minimum of five QSOs using an "alternate" energy source, such as solar, wind, methane or water, including batteries charged by natural means.
100 points for copying the special Field Day bulletin from W1AW.
Up to 300 points (100 points for each mode) for setting up a demonstration of a non-traditional mode, such as APRS, ATV, and SSTV.
100 points if your Field Day site is visited by an elected government official as the result of an invitation issued by your group.
100 points if your Field Day site is visited by a representative of an agency served by ARES in your community (Red Cross, Salvation Army, local Emergency Management, law enforcement, etc) as the result of an invitation issued by your group.
100 points if your GOTA (Get On The Air) station completes a minimum of 100 QSOs
---
ICARC 2022 Field Day Radios:

Looking for a new HF radio? Come to field days and use one or the ICOM-7300 SDR radios!
KC0JFQ has managed to uncover a pair of dynamic microphones with heavy desk stands.
So there is a crash project to build a microphone pre-amp circuit to allow the use of your favorite mic with the 7300.

The circuit is rather generic and should work with other radios.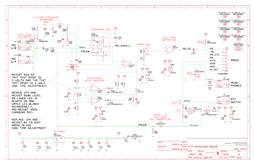 The circuit board is on order, and I hope to have it arrive in time to build & test before field day.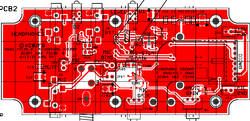 Board Status:

Boards are here!
Three(3) are populated.


Issues:

Regulator pinout wrong. Fix applied to board shown on this page.
Microphone preamp doesn't work. Possible installed backwards.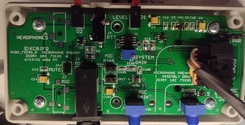 -KC0JFQ

---
ICARC 2022 Field Day Plans:
(left over from the ICARC meeting of June, 2019)
Location:
Current events are leading towards a cancellation of a group activity this year.
This plans section remains as our ongoing outline.

ICARC has the shelter at Iowa City's Hickory Hill Park reserved for 2022 Field Day operations.
Hickory Hill Park is in northeast Iowa City, off of North Dodge Street (Iowa Highway 1), near the Hy-Vee food store.
If you are heading north on North Dodge, you will turn right (south) onto Conklin Lane.
Go to the south end of Conklin Lane and you will be in the Hickory Hill parking lot.
Here is a photo map of the area.
Setup:
Setup will begin Saturday morning at 8:00 AM CDT sharp! The main task is to put up the antennas. Rich will bring his "spud" gun to shoot lines over tree-tops.

The generator will be set up and fueled, extension cords run, radios set up and connected and computers and networking cables will be connected and tested.

We must be finished setting up well before operation begins at 1:00 PM CDT!
Operating:
We will operate in the portable, independent of power mains, 3-transmitter category (3A) on 80, 40, 20, 15 and 10 meters.
The 3 HF radios will operate SSB and CW on all bands beginning at 1:00 PM CDT, and ending 24 hours later.
Radios will operate SSB unless a CW operator asks to switch to that mode.
CW operators are responsible for their own keyers and other equipment.
Operator times will be scheduled, subject to change as operators come and go.
So please show up and operate as it's convenient for you!
Coordination:
Coordinator - Mike, KE0QKF

Submit FD scores to ARRL



Power Sources - Cordell, WØCJB

Generator -- Honda 2000 from Aero Rental
Gasoline, 5-gallon can



Antennas and other Equipment from storage - Cordell, WØCJB & Emmett, KEØNBH

Antennas
Coax cable & guy rope
Ground rods & grounding wire
Spud gun (W3ACO)



Transceivers - Rich, W3ACO & Willy, KCØJFQ

ICARC TS-50
ICARC Heathkit SB-1400
WIlly IC-7200
WIlly IC-7300
MIke IC-7300
JOhn IC-7300



Computers - Kyle, ???KDØZBI??? & John, ACØXY

Computers - one per operating position
Supplied by ACØXY, KØCF and KEØQKF
Software (N1MM+)
Networking hardware (Router and CAT5e cables)



Potluck dinner 18:00 - Willy, KCØJFQ

Catering from Costco -- Chicken legs
PotLuck for other things
Beverages
Participants are encouraged to bring a salad, hot dish or dessert
Club suppliues paper plates, napkins, cups, etc.



ICARC Signs - Kyle, ???KDØZBI???



Bonus Points, etc. - Carl, KCØHZV

Assign someone to copy W1AW FD message (KØCF volunteered 2019)



Publicity -

Press-Citizen, KCRG, and/or other area Radio/TV stations

Sample press releases are in the Field Day packet from ARRL

Bring FD to attention of youth groups, potential new hams, others
Post fliers around town



---
Last updated Mar 22, 2022 by KØCF